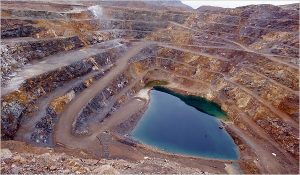 Turn on CNBC and you won't have to wait long before hearing some pundit extolling the virtues of investing in rare earth elements.  It's no surprise, rare earths are all the rage these days.  And it seems like rare earth mining penny stocks are appearing out of thin air.
So are rare earth miners worth adding to your portfolio?
Here's the deal…
Rare earth elements are used extensively in high tech products.  Many of these products are in industries experiencing exponential growth.  For instance, rare earths are key components in electric and hybrid vehicle motors and wind turbines.
The problem with soaring demand for rare earths is, well, they're rare.  And the vast majority of supply comes out of China – who needs those rare earth deposits for their own manufacturing needs.
So in a nutshell, there's a huge, fast growing market for rare earth elements and a limited supply controlled mostly by China.
Sounds like a great investment opportunity to me!
The big question then is, what rare earths companies make the best investments?
Right now the market leader in rare earth mining is Molycorp (MCP).
MCP is a rare earth miner based in the US.  They operate one of the few known rare earth rich mines in the Western Hemisphere, the Mountain Pass mine in California.
Molycorp's management claims Mountain Pass is one of the largest rare earth mines in the world.  And it gives the US its best chance to compete against China in rare earth development.
Investors seem to agree.
MCP shares have done very well since the company's IPO.  In July 2010, the stock IPO'd in the $12 per share range.  Within a year, they'd hit a high of nearly $80.
That's a 560% gain in under a year!
And even though the stock market has come under heavy selling pressure lately, MCP shares are still trading well over $50.
Here's the thing…
Investors aren't clamoring to own MCP because the company is extraordinary.  They own the shares because MCP was first to the market.  Quite simply, there were very few, if any, alternatives for investors looking for a US rare earths company.
But now, MCP's share price is sky high.  And while it may be a solid company, there isn't a lot of value left at these price levels.
Instead, investors should look for a company in the rare earth industry that's flying under the radar of the average investor.
And that's where Quantum Rare Earth (QREDF) comes in.
Quantum is a small, Canadian rare earth miner.  They're earlier on in the development stage than MCP… but they do have a premier mining project already underway.  And it's in Nebraska of all places.
That's right, the Elk Creek project is located right in the heart of the US, just south of Lincoln, Nebraska.  Not only does the site project to be rich in rare earth deposits, but it also could be one of the largest Niobium deposits in the world.
Niobium is an important element used in computers, healthcare, alloys, and steel production.  And there's an expected 1 billion pounds of it sitting in the Elk Creek mine.
Needless to say, Quantum's sitting on a potential mother lode.
Here's the bottom line…
Both companies are good plays on rare earths, but Quantum gives us an opportunity to buy into this explosive growth market at an early stage.  Quantum shares are dirt cheap, just $0.30 a share, because they're not as far along in the production process as Molycorp.  But once the company starts producing Niobium and rare earths, the shares could skyrocket.  And at current prices, it's a risk worth taking.
Yours in profit,
Gordon Lewis
Category: Penny Stock Alerts, Penny Stocks to Buy