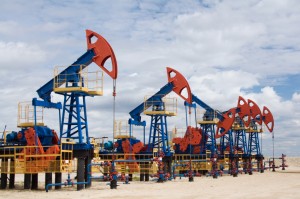 One industry group in particular seems to be attracting a lot of investor attention these days… the energy industry.
Energy plays such a fundamental part of everyday life, our very existence would be threatened by its absence.  And that makes energy companies particularly valuable.
One of the biggest sources of energy is oil.
It's used in thousands of different ways, and a big portion of it goes into powering transportation.  Oil is converted into diesel fuel, jet fuel, and gasoline for your automobile.
I don't know if you've seen oil prices lately, but for the last two and a half years, they've done nothing but climb to the moon.  Two years ago, you could have bought all the oil you wanted for $40 a barrel… now that same barrel will run you closer to $100.
That's what makes this industry really attractive…
As the trend of growing oil prices continues, the companies drilling for and producing oil will see their valuations grow considerably.  And that's great news for their stock prices too.
Now, you might be tempted to run out and buy some of the biggest oil producers like ConocoPhillips (COP)… but I urge you to be cautious.
Conoco has been in the news a lot lately.  Management is working hard to unlock value for shareholders.  Their latest scheme is splitting the company into two pieces.
Why go to all this effort?
The problem is Conoco is sitting on tons of debt right now.  Between the long term debt, deferred long term liabilities, and other liabilities, the company owes over $68 billion!
Management is making every move possible to lighten the debt load.  They're selling assets, and this latest move of splitting the company up is a backhanded way of reshuffling the deck.
There are other problems with Conoco too… the company is struggling to significantly grow revenue.  Over the last few quarters, revenue has been very flat.
Now you have two great reasons not to invest.  Remember, I don't have high hopes for the company, or the stock.
So, instead of COP, take a look at Miller Energy Resources (MILL).
What's so special about this company?
Miller's stock price is just over $7.80 a share and the company has a market cap of over $300 million.  $300 million is big enough to be a stable business, but small enough for management to really grow the company.
And growth seems to be this company's number one focus.
The company announced earnings for their third fiscal quarter ending January 31, 2011.  Let me tell you, the numbers were staggering.
Third quarter revenues jumped by 550% over last year.  The reason… new oil wells coming on line.  (You're never going to see numbers like that from COP!)  In addition, the company posted a small profit… which should only grow from here.
Miller's aggressively expanding their exploration capabilities.  They recently secured an additional exploration license for 68,000 acres in the North Susitna Basin.  They also signed a lease for exploring over 17,000 acres in the Cook Inlet.
Both are very exciting developments.
Here's the bottom line…
The energy industry is as hot as ever.  And oil and gas exploration companies are a great way to profit from rising oil prices.  There are a lot of companies in the industry, but be wary of buying a big producer with a boatload of debt, like COP.  Instead, consider investing in penny stocks, which tend have a better growth prospects like MILL.
Until next time,
Brian Walker
Category: Energy Stocks, Oil Stocks, Penny Stock Alerts, Penny Stocks to Buy