Buying Penny Stocks Offering Dividends
There are numerous strategies to be found when it comes to buying penny stocks. We talk about different ideas all the time at this site. And, if you take the time to look, it won't be hard to find plenty of additional opinions on the matter.
But, here's a penny stock tip which you may not see that often… buy penny stocks with dividends.
Wait, penny stocks can offer dividends? Am I sure?
Yes, in fact penny stocks can and do offer dividends. There are more out there than you think. Of course, there are risks, just like with any investing related to penny stocks. I'll get back to the risks in a minute.
So how do you go about buying penny stocks with dividends?
The first thing to realize is there are a limited number of penny stock dividend companies. More importantly, all of them are listed on the major exchanges (NASDAQ, AMEX, NYSE). We're not talking about OTC stocks here.
Still, among the major exchanges, there are close to 50 stocks under $2 which still offer dividends.
Here's an example: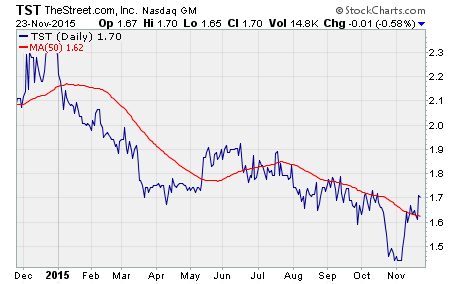 In case you're not familiar, TheStreet $TST is Jim Cramer's company. It's a digital financial media company which makes money from subscription based investment services.
Now, $TST isn't going to knock your socks off as a great investment. However, the company has a large amount of subscribers and the backing of Jim Cramer. Most likely, there aren't any solvency issues lurking around the corner.
Meanwhile, this low priced stock pays almost a 6% dividend! That certainly makes it an interesting company to invest in.
So what are the risks with penny stock dividends?
As you would expect, there are risks associated with penny stock companies offering dividends. First and foremost, most of these companies were probably priced much higher when they started offering dividends.
In all likelihood, the companies have not performed as well as expected in order to be trading at under $2 a share. This is clearly your first point of concern. Why is the stock so cheap?
The thing is, once a stock gets down to these levels, it's much more likely to cut back or abandon its dividend. You must be prepared for that scenario if you buy a dividend stock priced at these levels.
Nevertheless, you can hold the stock as long as it issues a dividend and dump it if the dividend goes away. It's still not a bad idea to collect the dividend while you can.
Another risk is many of these cheap dividend companies are not US-based. That means it will be harder to research them and understand what they're about. Of course, you can stick to US stocks, but it will roughly halve your choices.
Finally, many penny stocks with dividends are in the basic materials sector. That includes oil, gas, and gold companies primarily. That's not a problem if you understand the risks. Just keep in mind, basic materials companies are getting hammered right now, so don't expect a quick turnaround.
As I said before, there are certainly risks to owning penny stocks with dividends. But, there are more choices than you may have guessed. And, several of these dividends offer an attractive yield. If you do your research, you may be able to capture these high yields indefinitely.
Good investing…
Brian Kent
Note: If you're interested in learning more about Brian Kent's Penny Stock All-Stars premium service… and learning about the stocks we're trading for profit… you can get the inside scoop on penny stocks here.
Category: Penny Stock Tips