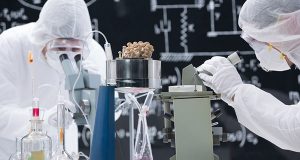 If all goes well for these three stocks, in the next six months they could be worth over double the prices they currently trade for. Each stock has important, business-defining events that, if positive (and it's likely they will be), would make their businesses significantly more valuable.
I get dozens of questions every week on small biotech stocks. Searching out these small under-followed stocks is a core focus area both at Small Cap Gems and obviously Biotech Gems, not to mention my work on SeekingAlpha and Real Money Pro. One question that comes up often is what I think about a small developmental concern as an investment. Often the answer is that while the company seems like a reasonable play given its focus, funding, and pipeline, the stock is unlikely to do much in the market as its next important trial readout or PDUFA date is many quarters or years away.
Often this flummoxes the inquirer as they have already invested in the company and were unaware of this. In the old days, when data was tough to find a lot of research had to be done to know this kind of relevant material to make an investment decision; however, in the age of the internet this is borderline inexcusable. There are many solid and free FDA calendars that provide just about every important trial result date or upcoming FDA approval decision dates for scores of companies. Here is one I like and use. http://www.biopharmcatalyst.com/fda-calendar/
Knowing these upcoming catalysts are crucial to making an informed investment decision on a small developmental company in this sector. For example, when we included Exelixis (NASDAQ:EXEL), a small oncology concern into the Small Cap Gems portfolio in late April, the company had just secured its first approval from the FDA for its lead cancer drug cabozantinib, branded as CABOMETYX, for the treatment of patients with advanced renal cell carcinoma who have received prior anti-angiogenic therapy.
SEE ALSO: Sell These 5 Popular Dividend Stocks About to Cut Yields
This information was already widely known in the market when we made our investment decision. What seems to be have been less-realized was that important Phase II and Phase III trial readouts for CABOMETYX in other indications were going to hit the wires over the next few months. Given the drugs recent approval and positive results in earlier trials, we reasoned that these trials would be successful and would be upcoming positive catalysts for the stock when they were released. That assumption turned out to be correct and the stock is up some 80% within the portfolio as a result.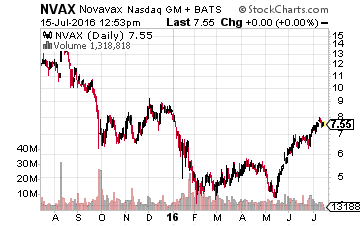 So what developmental companies that look attractive on a risk/reward scale also have upcoming and potentially positive catalysts in the third quarter? Here are a few I like right now. Let's start with Novavax (NASDAQ:NVAX), a small $7.50 a share vaccine maker which I have owned since it was $1.30 a share in 2012 and one I first highlighted it in a SeekingAlpha article. The company has a key Phase III trial readout for its Respiratory Syncytial Virus (RSV) Vaccine for the protection of older adults (60 years of age and older) that will be out before the end of September. RSV infections cause over 200,000 hospitalizations of those 65 or older in the United States annually.
The company has already been granted Fast Track designation for this important vaccine candidate. A Phase II trial readout for this vaccine in children will also be out by the end of 2016. Given how the vaccine performed in earlier trials, I am expecting positive results from the Phase III trial which could be a significant positive catalyst for the stock.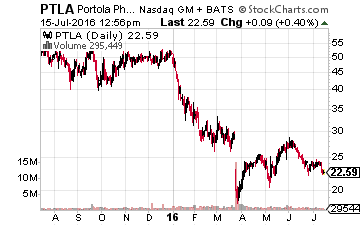 Another company I own that has multiple important events coming up is Portola Pharmaceuticals (NASDAQ:PTLA). First, the company has an August 17th PDUFA date with the FDA where it hopes to have its compound ANDEXXA approved. This compound is designed as a universal antidote in patients treated with a Factor Xa inhibitor (an anticoagulant/blood thinner) who experience a serious uncontrolled bleeding event or who require urgent surgery. A positive decision would make ANDEXXA the first approved treatment for this condition. The company should also file its own New Drug Application (NDA) for its Factor Xa inhibitor Bretixaban by the end of the year. Portola has already been rumored to be a possible buyout target for Pfizer (NYSE: PFE). Obviously, if the company sees additional success in coming months it becomes a more attractive possible acquisition.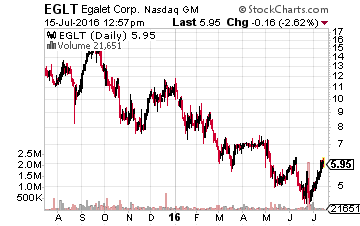 Finally, I have recently taken a small position in Egalet (NASDAQ:EGLT), a small biopharma focused on pain management products. Its lead drug candidate ARYMO ER (morphine sulfate) extended-release tablets, an abuse-deterrent formulation of morphine, for the long-term management of pain is up for review in early August. Specifically, on August 4th the NDA goes before the FDA's Anesthetic and Analgesic Drug Products Advisory Committee and the Drug Safety and Risk Management Advisory Committee.
A recommendation for approval almost always leads to FDA approval and the drug's official PDUFA date is October 14th. Cantor Fitzgerald recently reiterated a Buy rating and a whopping $22.00 a share price target on Egalet. Its analyst noted the reason for his optimism as well in these words, "We maintain that the company's proprietary Guardian technology is best-in-class in abuse deterrence not just because of the positive data around the Category 1, 2 and 3 abuse trials, but also for the data that shows the formulation does not have a food effect or an alcohol dose dumping effect. Additionally, the abuse-deterrent mechanism is a physical one with no added chemical deterrents, which some physicians may prefer."
With the wide-spread issue of addiction caused by pain management drugs, Egalet's solution, if approved, could be revolutionary.
While these important dates might still be weeks or even months away, there is another stock that has an important date with the Food and Drug Administration TOMORROW, July 19.
In just one day, this company's drug will go before the FDA, and if the results grant approval, which is highly likely, you could see your investment double or even triple in a short amount of time.
I have written down all of the details that you need to know in a new special report titled "A Biotech Superstar Taking Off on July 19th with FDA Approval."
This short report will hand you all of the details you need to know to invest in this biotech stock before the market closes on Monday (That is the last day to buy this stock before it takes off).
Don't waste any time, if you missed out on the great gains that Exilexis could have given you, this stock will more than make up for it.
Don't miss out, access my new report right now by clicking the link below.
Click here to access this report.
Positions: Long EGLT, EXEL, NVAX, and PTLA
Category: Biotech Stocks