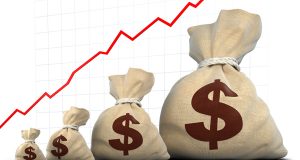 Buying shares at these prices might look like a gift in six month's time. With multiple catalysts to fuel share price growth on the horizon and a lot of good news not yet baked into the share price, now is a great time to get in. 
The fairy tale story for biotech investors is buying a small biotech concern shortly before its primary drug candidate is approved by the FDA, then watching the company smoothly roll out that new compound seamlessly to the market. They then beat initial sales expectations handily and you watch the stock take off like a rocket.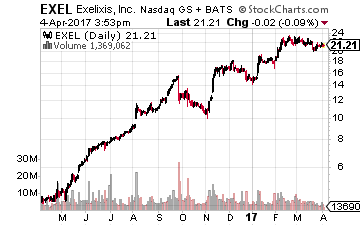 While that does occur once in the blue moon, like in one time Growth Stock Advisor oncology pick Exelixis (NASDAQ: EXEL) which has quadrupled in the last year on back of a beautifully managed roll-out of its drug Cabometyx. Those stories are far and few between like most budding romances.
More often the story is that of Relypsa (NASDAQ: RLYP). The stock spikes leading into and then on FDA approval of its first drug. Then that is usually followed by some "buy the rumor, sell the news" trading action especially if the name was a speculated buyout target and that did not materialize right after the good news from the FDA.
Worries about commercialization, such as need to raise additional capital to fund the rollout of the compound and initial sales disappoint, often cause the stock drop. This is often followed by the inevitable class action lawsuit.
As I have said many times on these pages. There are three sure things in life. Death, taxes and if a small biotech stock drops more than 15% for any reason, some unscrupulous ambulance chasing law firm will initiate a class action lawsuit in the name of the "shareholder". 95% of the time turns out to be nothing but an immaterial nuisance.
However, if one is patient, often these stories turn out to have a happy ending. In the case of Relypsa, it was acquired for a 60% buyout premium last year by Galencia.
Today, we look at three names that sit in varying stages of moving from development to commercialization. All have or had or might have some hiccups along the way, but look significantly undervalued here for patient, long-term investors.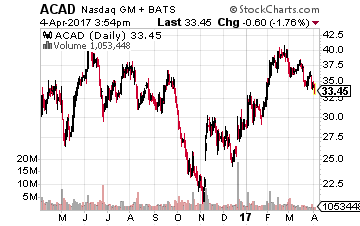 Acadia Pharmaceuticals (NASDAQ: ACAD) is off to a better start to commercializing its recently approved drug Nuplazid than most small developmental stocks at this stage of their growth trajectory. In its first two full quarters on the market, Nuplazid has easily exceeded sale projections, which is more than encouraging.
As important, there is continual anecdotal evidence that many physicians are using it to treat other forms of dementia. The drug is approved to treat psychosis in Parkinsons, which presents similar symptoms to that of Alzheimers and Schizophrenia, both of which Nuplazid is being tested in late stage trials to treat.
Parkinsons is probably a $1 billion annual market in the medium-term for Acadia. Add in the other two indications for Alzheimers and Schizophrenia and you probably get close to $3 billion. However, even if not approved by the FDA to treat the psychosis in those indications, the drug seems destined to see significant "off label" use.
The stock continues to ebb and flow as buyout speculation comes and goes around the shares. I think the stock's longer-term destiny is much like Relypsa. I have owned the shares since under $20 before Nuplazid was approved. I still hold most of my original stake as I think the shares are worth 40% to 60% more in an acquisition.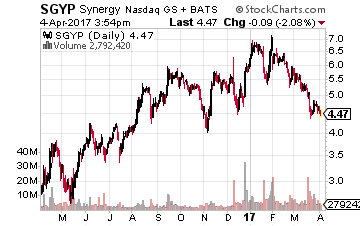 Synergy Pharmaceuticals (NASDAQ: SGYP) has been unfairly punished by the market in the first quarter of 2017. Its drug Trulance was approved for Chronic Idiopathic Constipation in December of last year. The company also just filed to have IBS-C added as an approved indication. Look for approval to happen sometime early in summer.
The drug is barely on the market and investors have taken the stock down from around $7.00 a share upon approval to just over $4.50 a share now. Trulance seems to be faster acting than market leading Linzess and has less side effects, especially diarrhea.
Linzess is growing nicely and is doing over $150 million a quarter in sales. Most recent analyst price targets on Synergy have been in the low teens. Investors need to let Trulance post a few quarters of sales and be patient on this one. Synergy is also a stock that is frequently mentioned as a buyout target.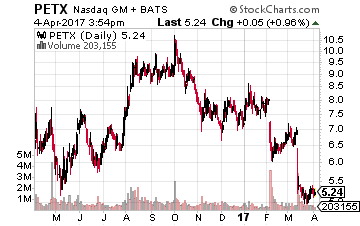 Finally, we have Aratana Therapeutics (NASDAQ: PETX) which has had a "hiccup" or two after getting three drug approvals granted by the FDA in 2016. This unique veterinary drug play had to move back its launch of its compound Entyce from the first to the fourth quarter as it is switching manufacturing facilities and will need to go through a certification process with the FDA.
The company's other approved drugs "Galliprant" and "Nocita" are just hitting the market, the latter through a marketing deal with Elanco. Aratana still has several compounds it is developing in its pipeline as well. Aratana has market capitalization of just $200 million, and approximately half of that is cash on the balance sheet. Given its cash hoard, recent approvals, and its pipeline, the stock's recent 35% haircut seem entirely unwarranted. I have added some shares to my core stake recently on the pullback.
Don't stop reading, this information could be the key to what you have been looking for but unable to find regarding your biotech stock portfolio. It's completely possible to turn your string of misses into a consistent stream of winners with just a simple change that takes only an hour a month. The reward of your work and investment is an income far greater than you can earn on your own.
Let me send you a stream of the market's highest probability winners in biotech every month. Just click the link below to find out how.
Click here to take back control of your financial future.
Positions: Long ACAD, PETX, SGYP
Category: Biotech Stocks