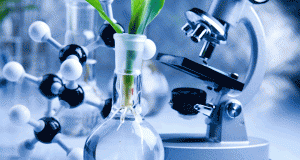 After executing perfectly on their business plans in 2016, these three stocks look set to reap the profits in 2017. With buyout potential and higher share prices expected in the New Year, adding these three stocks to your portfolio today looks like a smart move. 
It is hard to believe 2016 has already come and went. It was quite the year on many fronts, especially given the unexpected election outcomes in both the U.K. and the United States. Hopefully, 2017 brings a greater sense of certainty and security.
All in all, it was not a bad year for investors as all the major indices ended in the black for the year with the Dow posting its best annual gain since 2013. Oil and other commodities also rebounded. One sector that did not participate in the rally was biotech. However, after a year and a half of vastly underperforming the overall market, it appears ready to play catch up in 2017.
The chart of the main biotech indices over the past 18 months looks eerily similar to the one for the energy sector entering 2016. Energy turned out to be one of the best performing areas of the market in the year that just passed. A similar fate might await biotech investors in 2017.
I get asked often at the beginning of every new year, what are my favorite small cap biotech stocks for the year ahead. Although it is a bit late to make the holiday references, here are three "stocking stuffers", or small biotech stocks under $10.00 a share, that I think have great potential in 2017.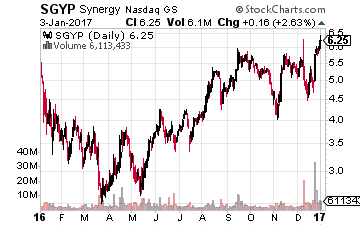 Let's start with Synergy Pharmaceuticals (NASDAQ: SGYP), which probably has less upside potential than the other two names we will profile, but has more visible certainty. The company's main asset is a gastrointestinal drug called plecanatide. The stock jumped some 20% in December after Synergy's disclosed very solid results from a Phase III trial for the treatment of IBS-C.
The drug candidate is expected to be approved by the FDA late this month for chronic idiopathic constipation. A supplemental new drug application (sNDA) for IBS-C will be made soon thereafter.
Plecanatide works somewhat more effectively that the market leading drug, Linzess. It also appears to have fewer side effects, particularly diarrhea. Linzess's revenues continue to grow at rapid clip and look to post over $150 million in sales a quarter.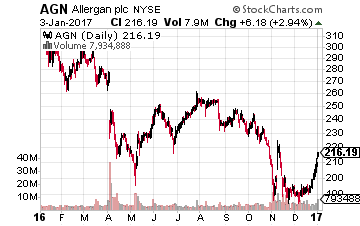 Once approved, I expect plecanatide to quickly take market share from Linzess. Synergy has one other GI compound in mid-stage development. It should be high on the list of small cap concerns that are likely to be purchased in 2017. Allergan (NYSE: AGN) has frequently been mentioned as a possible suitor.
My money is on Takeda, who recently was negotiating to buy Valeant Pharmaceutical's (NYSE: VRX) GI business and has stated they have $15 billion in the kitty to make acquisitions. SGYP currently goes for just over $6.00 a share. A buyout in the $8.00 to $10.00 a share seems like a solid possibility in the New Year.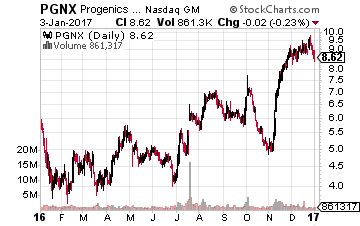 Speaking of Valeant, one has to love Progenics Pharmaceuticals (NASDAQ: PGNX) in 2017 despite a 75% rise in its stock since the November election. Valeant is the marketing and distribution partner for Progenics' compound, relistor. Sales have picked up notably since the FDA approved the oral version of relistor on July 19th. This will accelerate royalties and sales milestones.
I expect Progenics to pick up a $10 million sales milestone in 2017 as well as increased royalties as sales of relistor continue to ramp up. Another $15 million milestone should occur in 2018 and a $20 million payment should accrue in 2019.
In addition, another compound, "Azedra", should have key trial data out in the first quarter. That drug looks likely to be approved to treat two very rare forms of cancer by the end of 2017. Finally, another compound has shown great promise as a prostate cancer imaging agent and is moving forward in late stage development.
Progenics has a more than solid balance sheet and only a $600 million market capitalization even after the stock's recent rally. Its sum of the part valuation should be much higher. The shares go for just over $8.50 apiece.
Our last pick is for the "dogs" and is the veterinary drug play, Aratana Therapeutics (NASDAQ: PETX). The company saw three drugs in its pipeline approved in 2016 and has more than a half dozen in development. It will be ramping up commercialization efforts in 2017.
The company's first approved drug for osteoarthritis in canines, "galliprant", received a large collaboration deal with major animal health player, Elanco, soon after it was approved. "Entyce" and "Nocita" could soon ink similar deals.
The company is well funded to continue development of its pipeline even as it ramps up sales. The stock has had a solid 2016 but has traded flat over the past six months. I believe the rally picks up in the shares in the first half of 2017 now that its previous gains of the first half of 2016 have been digested.
The stock trades just north of $7.00 a share and sports a market capitalization of under $275 million. Given the increasing interest in animal health, this would be another company I would not be surprised to see pursued by a larger suitor in the New Year.
The three stocks above have some great catalysts for share price appreciation and are worth your time to do a deeper dive, but there is one stock that I have come across recently that you absolutely must check out.
This company expects to release Phase III Trial soon showing positive results that could propel the share price of this stock. The drug in development has double the benefits of leading drugs on the market, and even better, Sanofi, a leading pharmaceutical company, helps fund its development, making it an even safer play. This partnership could spell $1.7 billion in payouts next year.
Funny enough, these positives aren't even the top reasons you need to pick up this stock today.
I've just released a detailed briefing that shares all of the reasons this stock could be your biggest winner of 2017 which can be accessed by clicking the link below. I personally believe this stock will pop 66% JUST from the one drug I mentioned above, and there is plenty of upside on top of that.
Positions: Long PETX, PGNX & SGYP
Note: Click here for more on Bret's most popular service, Biotech Gems.
Category: Biotech Stocks, Penny Stocks to Buy