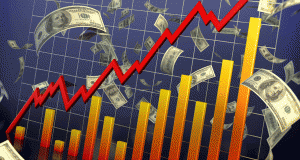 With massive growth potential over the next few years and solid floors beneath their share prices, consider these three stocks shared today. All three have recently seen their business prospects brighten and now is a great time to buy. Bret Jensen shares why.
The end of 2016 is around the corner, and it has been an eventful year to say the least, from Brexit to the recent U.S. Election. It has also been a modestly profitable one in the markets as we are near all-time highs on all the major indices. We have experienced a huge amount of sector rotation since the unexpected election results became known on November 9th. Consumer Staples, Utilities, and Emerging Markets are out while Financials, Energy, Industrials, and Healthcare are in judging from the action since the election.
One post-election winner has been the domestically-focused small and mid-cap stocks. These should benefit from a boost in economic growth going forward and are not heavily impacted by a stronger dollar, which is now at 13-year highs. The Russell 2000 was up more than 10% in November. I think that theme will continue in 2017, albeit not at last month's pace. Here are some attractive names that have laid the ground work in 2016 for very solid performance in the New Year.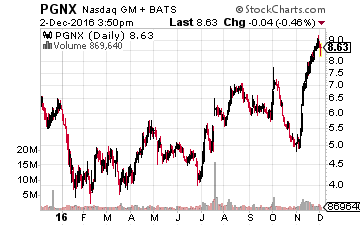 Progenics Pharmaceuticals (NASDAQ: PGNX), a longtime favorite name of mine in biotech, was no slouch in November. The stock was up nearly 80% on the month and was a big winner for Biotech Gems subscribers. The company has been on a roll in 2016. The oral version of its GI drug, relistor, was approved on July 19th and has already resulted in improved sales for the franchise as previously relistor was only available in an injectable form. In addition,
In addition, marketing and distribution partner, Valeant Pharmaceuticals (NYSE: VRX), just announced it is increasing its sales force for relistor, which should boost sales even further in the quarters ahead. It will also accelerate the timeline that Progenics can earn up to $200 million in sales milestones, in addition to royalties in the mid-teens.
So what is ahead for Progenics? We should see top line results from Azedra in the first quarter of 2017. Azedra is a radiotherapeutic compound aimed at a rare form of adrenal gland cancer. The drug has already been fast-tracked by the FDA so I expect the trial to be successful. This means Progenics should file a new drug application in the second quarter of 2017 and hopefully have Azedra approved and on the market at the tail end of 2017. This would create a second revenue stream for Progenics and should boost the stock price as well. A prostate cancer imaging agent "1404" should have Phase 3 interim trial results out in the next month and will continue to make headway in 2017. This well-funded small concern has never had a brighter future than right now.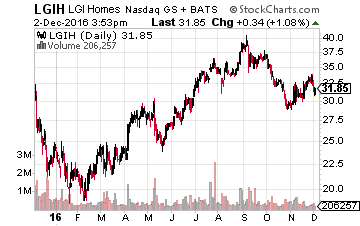 Texas based home builder, LGI Homes (NASDAQ: LGIH), treated Growth Stock Adviser subscribers very well in 2016 as the stock of this housing play rose some 60% during the year. The home building sector has pulled back recently as mortgage rates have spiked. However, I do still like the homebuilders after some consolidation from solid post-election gains. I think the pace of rising rates will moderate in coming weeks, and mortgage rates are still historically low. Recent new home sales and housing starts numbers are at levels rarely seen in the past decade but still under their long-term trend of the past four decades. A boost in economic growth, wage gains, and household formation is just the tonic this long-dormant industry needs, and I think will get it in 2017.
Home closings are up some 20% year-over-year so far in 2016, overall revenue is up roughly a third, and this well-run builder now gets over 50% of its growth from outside the Lone Star State. Growth should slow a little in 2017, but the consensus still calls for 20% growth in earnings and revenue. The recent rally in crude oil prices might even bolster the outlook for the Texas economy to some degree in the New Year. The stock is still cheap at just over eight times next year's profit projections.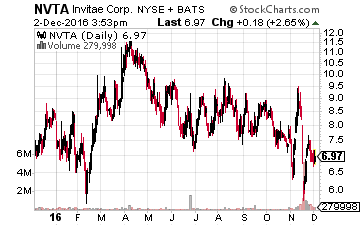 Finally, we have Invitae (NASDAQ: NVTA), a small concern in the fast-growing space of genetic testing. This market is expected to triple over the next half dozen years to a $9 billion industry. Invitae is what I dub a "Busted IPO", as it can be bought for about one-third the level it came public at early in 2015. The company is starting to hit its stride. Sales should triple this year to some $25 million. Next year, I expect Invitae to deliver $70 million in revenue as it grows outside its core oncology testing business and continues to sign new contracts with insurers to expand its coverage network. This network already includes 160 million covered lives, up from just a few million a few years ago.
The company has consistently reduced the cost per genetic test as it ramps up sales volume. It already hit its year end goal for cost reduction in the third quarter of this year. Although it will continue to post losses in 2017, they will decrease significantly and management expects Invitae to be cash flow positive near the end of 2018. The company just raised capital, so funding concerns are off the table and management bought a good deal of that secondary which is always an encouraging sign.
So far, it looks like 2017 is set to be a monster year for the kinds of stocks that I follow. These domestically-focused small and mid-cap growth stocks have already started to rally but it might only be the beginning.
Investing in sectors and stocks where there is hidden value not yet recognized in the market has become my specialty. Since the majority of investors have not heard of the stocks I pick or seen the opportunity yet, I can buy shares for much lower prices and supercharge my returns even more.
Just recently, I shared with my subscribers a report detailing my top five growth investments for 2017 and you do not want to miss out on these potential triple-digit winners. You can access this report by clicking the link below.
Click here to access my latest report.
Positions: Long LGIH, NVTA, PGNX
Category: Penny Stock Alerts