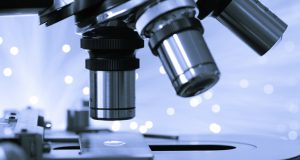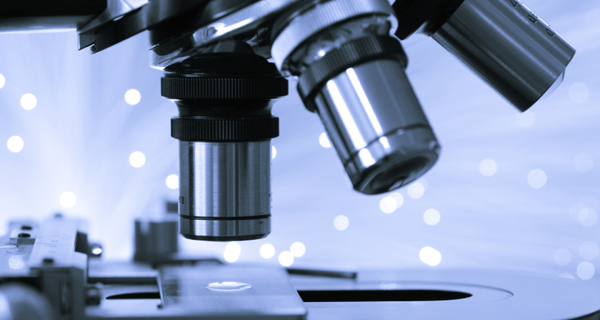 After being the market's whipping boy for the last year, the biotech sector looks ready to rebound under a pro-business White House. Already, many stocks have shot up over 50%, but Bret Jensen shares three today that still have plenty of upside backed up by strong products already on the market. 
The biotech sector has seen a remarkable turnaround in November. The sector posted its best weekly gain since 2000 in what can only be called a "Yuge" post-election rally. Both the biotech and pharma industries were dreading the prospect of a clean electoral sweep of Congress and the White House by the Democrats. This would have most likely brought the wrath of Senators Warren and Sanders down upon these areas of the economy and markets. The resulting additional regulation and legislation would have been detrimental to growth, not to mention innovation in these segments of the economy. Both sectors sold off hard in October
What a difference a month makes. Politics did bring a clean sweep for Republicans, which seemed the least likely of all political outcomes days into the actual election. After the post-election rally, we did see some consolidation and slight profit taking as one would expect after such a quick and unexpected rise. However, sentiment has shifted to a much more positive stance on the biotech sector after over a year of vastly underperforming in the overall market.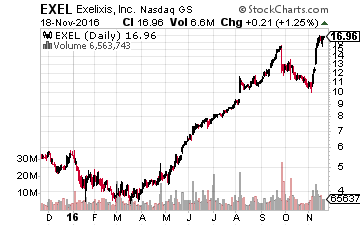 Interestingly, small caps continued to outperform their larger brethren even during this consolidation phase. Hopes for increased M&A activity now that the markets have political certainty are buoying this part of the biotech sector. I would not be chasing some of the huge winners we have highlighted on these pages like Exelixis (NASDAQ: EXEL) which has almost quadrupled from $4.50 a share when it was put in the Growth Stock Advisor portfolio earlier this year. Or Cara Therapeutics (NASDAQ: CARA), another much-highlighted name that has doubled so far in November as four analyst firms have reiterated Buy ratings with price targets in the low $20s so far this month. However, there are some small caps that while they have seen nice rises recently, they still have significant upside in my opinion and have solid years in front of them during 2017. Here are a few that come to mind.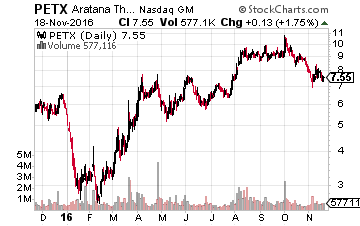 Let's start with unique veterinary drug play, Aratana Therapeutics (NASDAQ: PETX), which has had three drugs approved so far in 2016, a major accomplishment for any small developmental firm. 2017 will see these compounds hit the market in full force and Aratana will move away from being a non-profitable developmental firm as it begins commercialization efforts. The company has already signed a lucrative distribution deal for its first drug "galliprant" and I would look for similar deals on the other two compounds in the next few quarters which should be a positive for the stock and boost initial sales as well. The stock seems significantly undervalued here with a market capitalization of just under $275 million with plenty of cash on the balance sheet.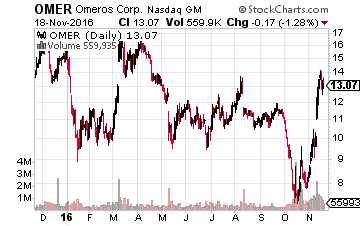 Omeros (NASDAQ: OMER) has finally started to rise and is up over 50% in the past few weeks, but the company seems like it has the "Big Mo" right now. Recently, it showed good trial results for three different compounds that are advancing at a nice pace in its pipeline. In addition, sales of its key approved product "Omidra" are accelerating and are running at a $55 million annual pace right now. The company also addressed its funding overhang successfully, which removes that headwind. Even with the recent rally, the stock sells for just over $13.00 a share. The median price target by the analyst firms that cover the company is north of $40.00 a share, so I could easily see significant upside ahead if the company continues to execute well along its development path and if Omidra sales keep growing.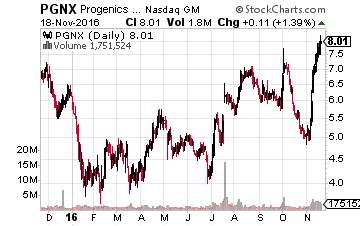 My yearlong patience with Progenics Pharmaceuticals (NASDAQ: PGNX) finally seems to be paying off in spades. The stock has moved up some 60% so far in the month of November as investors finally appear to be recognizing the company's value and upcoming catalysts. On July 19th, the FDA approved the oral version of its gastrointestinal compound relistor which previously had been only available in an injectable version. Preliminary results showed this development will boost sales of relistor, which is marketed and distributed by partner Valeant Pharmaceuticals (NASDAQ: VRX) in the quarters ahead. Third quarter gross sales of relistor went from $15.9 million to $22.1 million in the third quarter and should be even higher in the fourth quarter of 2016 when a full three months of sales of oral relistor are reflected in quarterly numbers.
This growth will also accelerate the timeline of when the company is expected to receive up to $200 million in sales milestones connected to relistor. I expect the company to receive the first $10 million of these milestones in the fourth quarter of 2017 and perhaps even in the third quarter, which will be a positive achievement.
In addition, Valeant is in talks to sell its gastrointestinal assets to Takeda for some $10 billion. If this happens, that would remove the "Valeant" overhang on Progenics. Given the need to pay down Valeant's $30 billion debt load, I believe this transaction might occur in the next quarter or two. Finally, Azedra is making good progress in trials and should be on the market late in 2017. This compound is wholly owned by Progenics, could deliver $300 million in peak sales according to at least one analyst and will produce a nice second income stream. I would not be surprised if the company signs a collaboration deal to market and distribute this compound at some point over the next year. I also would not be shocked if Progenics becomes a buyout target if Valeant is successful in selling the rights to relistor as well. Either way, I still see further upside for the stock in 2017.
It's times like these when I truly cherish the opportunity to share my insights on the markets with you because right now we might be on the cusp of one of the fastest and biggest wealth-building opportunities of the last 10 years. But that's only if you take action now.
Biotech has been a stinker for the last one and a half years as super-liberals Bernie Sanders and Elizabeth Warren have targeted the sector repeatedly with their attacks. In response, share prices dropped across the board to levels that were so oversold, many stocks traded for UNDER the amount of cash they had on their balance sheets.
Almost overnight the fear of price controls and regulations imposed on the sector by the government have evaporated, and we saw the biggest weekly gain in the sector in 16 years! But this is just the beginning. The rally in this sector could last years as the leading biotech companies solve the world's most pressing and debilitating diseases.
I am going to ride this multi-year trend to huge profits in my own portfolio and I want you to join me too. That's why today, I am inviting you to join my advisory service and learn from me, an industry veteran, on how to successfully invest in this lucrative sector through my service, Biotech Gems.
You can think of it as a window into my personal portfolio and strategy. And, as a former hedge fund manager and lifelong investor, I have a unique and valuable skillset that you can only develop after years of experience. So, will you take a 60-day test drive of Biotech Gems so you can learn from me how to invest in this sector and secure a lifetime of profits? To find out more, click the link below.
Click here to find out more about Biotech Gems.
Positions: Long CARA, EXEL, OMER, PETX, PGNX
Category: Biotech Stocks