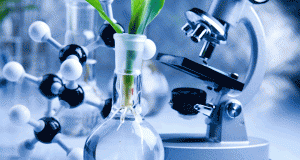 And, that is no exaggeration, these three biotech stocks all have near-term catalysts right around the corner that will send their currently undervalued share prices soaring when positive. Grab shares today because the catalysts we're targeting for growth start happening in September.
One of the keys to investing in the small cap portion of the biotech sector is timing. Finding a stock with an attractive long-term developmental profile from a risk to reward perspective is desirable, but finding one that has an upcoming positive catalyst in the near future is usually doubly rewarding. Searching out these situations requires a lot of research, but the work involved today is much less than in used to be. The internet has made all sorts of data freely available such as when key trial results should be released as well as upcoming decision dates with the FDA.
For today's article, I want to share some research I have done on three small biotech stocks that look attractive on a risk to reward scale that also have near-term catalysts that are likely to be positive for the company and their stocks before the end of 2016.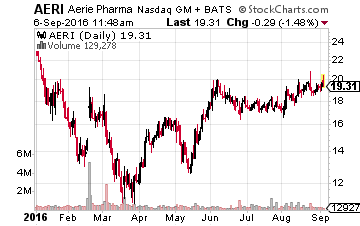 First up is Aerie Pharmaceuticals (NASDAQ: AERI), which has two lead drug candidates in the pipeline: Rhopressa™ & Roclatan™ both aimed squarely at the glaucoma and ocular hypertension marketplace. The company should file its New Drug Application (NDA) on Rhopressa™ sometime this quarter, and the results from a Phase 3 clinical trial for RoclatanTM are expected in September 2016. The company should file an NDA for that compound sometime in the first half of 2017. Glaucoma is an approximate $2.5 billion annual market in the United States and glaucoma treatments total about $6 billion worldwide, so this is an addressable market especially for these compounds which look to be more effective than the standard regimens on the market.
Analysts have a very positive view on this company trying to treat ocular disease. The median price target by the analysts that cover this name is just over $45 a share, more than double the current trading level of the stock. In early August, Canaccord Genuity, Brean Capital and Cantor Fitzgerald all reiterated Buy ratings within a narrow price target range of $44 to $48 a share. The shares currently go for under $20 a share and have an approximate $500 million market capitalization.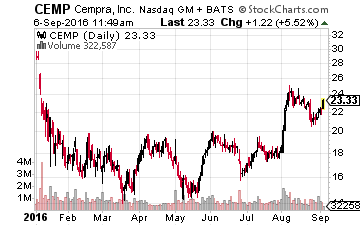 Next up is an antibiotic concern also selling for right around $20 a share but with a market capitalization of some $1 billion called Cempra (NASDAQ: CEMP). The company's lead drug candidate is Solithromycin, which it has filed NDAs on for both the oral and intravenous version in the United States as well as approval in Europe. Based on solid Phase 3 trial results, Solithromycin is targeting the urgent problem of antibiotic resistance and provides physicians with a new, potent macrolide monotherapy option that currently does not exist when treating patients with community-acquired bacterial pneumonia or "CABP". According to the U.S. Centers for Disease Control and Prevention, CABP is the leading cause of death due to infectious disease in the United States, killing more over 50,000 people annually. Approximately 10 million scripts are written annually for CABP in the country.
The company has also completed a Phase 2 trial in acute bacterial skin and skin structure infections and a Phase 2 clinical trial in patients with prosthetic joint infections using fusidic acid. Enrollment for a Phase 3 trial should be complete by the fourth quarter of this year. With approval for the oral and intravenous versions of Solithromycin highly likely on December 27th and 28th, the company is planning to launch the compound in the first quarter of this year in the United States. Approval in Europe is projected to happen in the second half of 2017. This is another firm with strong analyst support as eight analyst firms have initiated or reiterated Buy ratings in August with price targets in the range of $31 to $48 a share.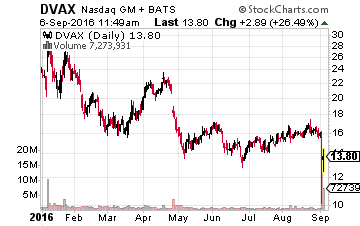 Finally, we have Dynavax Technologies (NASDAQ: DVAX) whose day looks like it is finally on the horizon. The company's hepatitis B vaccine HEPLISAV-B goes before an Ad Comm panel in November. Based on an over 10,000 subject Phase 3 vaccine trial, it is highly likely the panel recommends the biologic gets approved which should happen on December 15th when the FDA is scheduled to make its decision on this vaccine.
Not only did HEPLISAV-B show greater protection rates (95% to 81%) of the current standard vaccine "Energix B" in the market from GlaxoSmithKline (NYSE: GSK), but it can be delivered in two dosages over a month compared with the current regimen of three dosages over six months. This should greatly increase patient compliance rates which currently hovers at a dismal 55%. Once approved, HEPLISAV-B should gradually displace Energix B as the market leader in this space. Energix B does some $150 million to $200 million in sales a quarter.
This is a significant amount of revenue for this $650 million market cap company which also has some $150 million in cash on the balance sheet as it gets ready to roll out this important vaccine. The company also has an asthma drug that is in Phase 2 trials being led by development partner AstraZeneca (NYSE: AZN) as well as an intriguing early stage oncology product, "SD-101". The stock is undervalued just based on HEPLISAV-B, the rest of its pipeline is gravy at this stage before an important approval date approaching.
One of the best strategies for investing in small, developmental biotech stocks that I've discovered is finding the companies that have upcoming and important dates with the FDA. Whether it is late stage trial readouts or approval decisions, these events can send a stock price soaring.
The three stocks above all have the catalysts I look for and are worth your time to do a deeper dive, but there is one stock that I have come across recently that you absolutely must check out. I have just released a 1,800 word report packed with info on how this small company is on the verge of developing a vaccine for a huge market.
It has an official meeting set with the FDA on September 30th, but the company has just recently said that this meeting could take place anytime during September. All that means is that now is the best time to buy this stock if you don't want to miss any of the gains.
If I have sparked your curiosity, read my just-released report by clicking the link below.
Click here to read my latest report 'The Vaccine Maker Stock About to Pop on FDA Phase III Trials'
Positions: Long AERI, CEMP, DVAX
Category: Biotech Stocks