TEN Best Penny Stocks for 2015!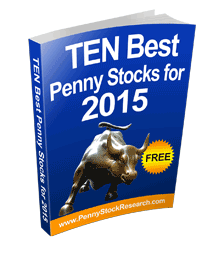 Looking for the Very Best Penny Stocks to Trade in 2015? Then look no further… In this free report, we do the research and hardcore screening to find the very best of the best.
These are penny stocks that could jump by 57%, 123%, 349%, or MORE!
In This Free Penny Stock Report, find out the names of these TEN rocket hot penny stocks. As a bonus, get the names of 9 penny stocks we're certain you should SELL NOW.
Act quick before these stocks start moving!
Click here to get your copy of The TEN BEST Penny Stocks for 2015!
*This is a free report, credit card is NOT required. Please read our Terms of Use and Privacy Policy
**Includes a free subscription to the Penny Stock Research newsletter.
***IMPORTANT NOTICE TO CANADIAN RESIDENTS – DO NOT USE THIS PAGE, PLEASE CLICK HERE